STRIPED TOMATO
Presents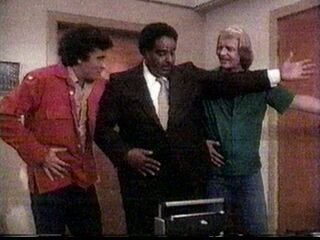 The STARSKY & HUTCH FICTION DEN

---

WELCOME S&H FANS!
It's been a long time since I updated this site, but I thought it was about time I resurfaced. I also noticed the "Contact the Author" link was dead, so I've repaired that. I want to thank everyone who has sent nice comments, and who voted for me in the Torino Awards! I'm really honored by the recognition there.
The following stories are general fan fiction based on the television show "Starsky & Hutch" (the one, the only, the original, accept-no-substitutions Starsky & Hutch!). No infringement is intended on the rights to these characters or titles--and trust me, no money is being made. These stories are simply here for the enjoyment of fans for whom four seasons of episodes just weren't enough.
While the stories contain nothing sexually explicit and are Gen, they are intended for a mature audience, so use discretion with young readers.
---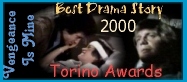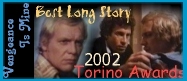 Vengeance Is Mine
Starsky finds his dream house and convinces Hutch to enter into their biggest joint investment yet. A gruesome murder case strikes tragically close for Hutch, and Starsky faces the ugly specter of anti-Semitism in his own backyard.
CHAPTERS:
ONE, TWO, THREE, FOUR, FIVE, SIX, SEVEN, EIGHT, NINE, TEN, ELEVEN, TWELVE, THIRTEEN, FOURTEEN, FIFTEEN, SIXTEEN, SEVENTEEN
---
Rites of Passage
In the wake of the Gunther hit, Starsky and Hutch consider the options for their future. Meanwhile, the two detectives become embroiled in a murder case against the backdrop of the Music Business.

PART ONE, PART TWO,

PART THREE

, PART FOUR




---

Down A Dark Hall


Starsky goes undercover to investigate a series of gruesome murders at an exclusive women's college while Hutch works the case from the outside. What the two men discover will threaten their lives, their sanity and their souls.

PART ONE, PART TWO, PART THREE


---


Home for the Holidays


Starsky and Hutch strike out for a cross-country vacation to celebrate Hanukkah and Christmas by visiting their families. What danger could there possibly be in that?

---


SHORT FEATURES


The Gate
Starsky inherits a sprawling--and sinister--Victorian hotel.

Memory
His ordeal at the hands of Marcos' cult reveal a terrifying secret from Starsky's past.

A Joke Among Friends
A follow-up story to the tag of "The Trap".

The Book
Hutch gains some new insights into his partner when Starsky begins writing his memoirs.


---


Contact the Author


(Please click photo)




---

DISCLAIMER: I do not claim ownership of the Starsky & Hutch name, characters or any similar entities which may be owned by others. This is a strictly non-profit, amateur page.

All images are from my files, goodies I have found in my scavenger hunts across the internet. No infringement on anyone's ownership of these images is intended. If you believe this has occurred, please contact me.